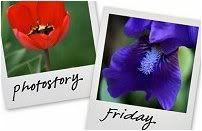 Hosted by Cecily and

MamaGeek
Okay, so I realize
Photostory
Friday is about ONE picture, in most instances, but I'm a total glutton. One picture is sometimes just not enough.
I was going back through old albums when I found mine and Daryl's camping trip to the White Mountains in New Hampshire (I am in love with the White Mountains and try to go every year, if I can).
It was just me, Big D, and our two crazy dogs.
Here is Tucker and Daisy, doing what they do best. Sleeping. Every time we were in the car longer than 20 minutes, they crashed out. (Sorry for the sideways photo!)
Aaahhhh
, nature. Camping.
The smell of a toasty campfire burning.
The cool night air fresh and clean in your lungs.
The chirp of your cell phone signaling an important text message.
So romantic. I opened up my bottle of booze (er, juice?) to find this lovely line. (
and please, God,
excuse my disgusting short and dirty finger nails! I had just ripped off my acrylics 2 days before AND hadn't showered in a day or so.)
And in case you are wondering, was our night "thrilling"? Hell, we didn't even
wait
for the night.
Our
afternoon
was thrilling.
Heh
heh
.
This is the site we saw outside our truck window, while driving up Mount Washington. This is probably about the point I almost pissed my pants. Both from insane fear(if you don't like heights, please, please for the love of God, don't go!), and an overly full bladder. (I won't lie, instead of the bumper sticker-- which mind you flew out of my hand at the top and over the side of the mountain--that says "This car climbed Mt. Washington", it should have said "This girl peed on Mt. Washington". Details and picture
NOT
to follow. Yes, there
is
a picture.)
This is Big D looking all
GQ
and Rico Suave-
ish
standing next to the very,
very
steep
mountainside
in freezing cold winds that whipped me around like a twig, but yet seemed to have no effect on the man.
Then there is me.
Freakin
' freezing in my
hoodie
, squinting with tears gushing from my eyes due to the winds, smiling nervously and oh-so-aware of the deathly drop behind me, short hair blown crazily back and glasses that, now looking back, seemed strangely too small for my face. Stylish.
Okay, so maybe Big D should have gotten that bumper sticker, too? We were already half way down and there was no absolutely
no way
he was going to be able to hold it.
Shhhh
! Don't tell!
The fur-babies loved sitting next to me (or in
Daisy's
case,
on me
) by the campfire.
And for the times when my lap was not readily
accessible
for Her Highness, she would curl up quite content in the chair. And yes, don't poke fun, my dog is wearing a sweater. That little shit shivers like it's fifty below!
Aaahhhh
...breathe in, imagine that crisp air and say it with me, "New
Haaaaampshire
. We love you. We'll be back soon!"
Good times.