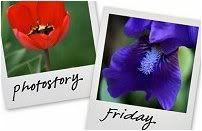 Hosted by Cecily and

MamaGeek
In honor of Father's Day in a couple of days, this next
Photostory
Friday picture of mine is appropriately of...my Daddy. And since there is no way I can narrow it down to just one...here are some of my favorites and a brief description of each:
My handsome father served his country and made his parents and family (and country) proud.
Here he is March 6, 1976 (coincidentally the day my Big D was BORN) after marrying the love of his life, my mom.
I was a total Daddy's Girl, from the very start. My mom tells me how excited and eager my Dad was to be a father. Each Christmas Eve, he would stay up till the wee hours putting together mine (and my brother's) gifts that required assembly. And Christmas morning, he was like a big kid himself. I remember each Christmas, Dad would start his coffee, and Mom's tea, and we weren't allowed to get out of bed until Mom (the later riser) was up. By this point, my brother had hopped into my bed and we lay giggling and eager in the darkness (cuz it was always like 5 or 6am!), listening to Dad rustle around until we heard him bellow, "April! Sean! It's Christmas!" and out we'd race in our pajama-stocking-ed feet where Dad waited, camera in hand.
Below on the left is my father on his 30
th
birthday, and on the right is me on
my
30
th
. I wanted to somewhat recreate his picture with each of our chocolate cakes, "3-0" candles and our big Smith-smiles and dark brown eyes.
My Dad was a character all right. He was friendly and outgoing, loved to talk, could recite random facts like an encyclopedia (we always said he should have tried out for Jeopardy!), he loved to make elaborate weekend breakfasts with eggs, home fries and toast--cooking was a passion of his, he always took us kite-flying on breezy spring days, and hiking at Sleeping Giant in the balmy summer months, helped us create forts in our playroom made out of sheets and pillows, built us a kick-ass tree house, was the comforting hand on the back of my bicycle as I learned how to ride it, sang his heart out to Queen, Meatloaf and the Beatles, made us a roomful of helium balloons one day in the living room and danced through the strings with us, took us trick-or-treating every single year until we were too old (my last year was when I was 12 or 13 and none of my friends would go so my mom and Dad walked with me!),
religiously
video-taped and photographed every dance recital of mine and little league game of my brother's, showed me how to laugh and be polite, taught me to "respect my elders"and "don't talk back to your mother", watched me learn how to drive (although I'm sure it scared the crap outta him!) and receive my high school diploma and dropped me off at my college dorm, his full grown daughter. Dad taught me how to
live
.
With his favorite bird, Cinnamon, who we had to find a new home for once her bird dander was too much for his cancer-filled lungs.
Daddy and his firstborn, his Chicky-Babe.
One of the last pictures ever taken of my Daddy. About seven months later, his body would leave us and his soul would fly.
Happy Father's Dad! You will always be (as you survive in my memories) the perfect example of what the word "father" truly means!! I love you!