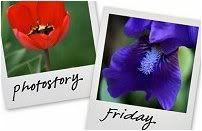 Hosted by Cecily and MamaGeek
My PhotoStory Friday for this week is about Life.
There is nothing I love more than sweet little baby feet. And staring at these feet the last time they visited my house, made me so thankful. My friend Crystal was told long ago that she would never have children due to some medical issues. These little toes actually belong to her second child, Gabriella. This picture makes me so thankful that Crystal was blessed to become a mother, twice over, because she was certainly born for it.
And this second picture of little Gabby is a bonus! How can anyone not look at a baby...and
smile
??? Something in their innocent eyes, their sweet chubby cheeks, that just makes me feel good...