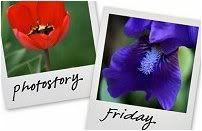 Hosted by Cecily and MamaGeek
I decided to play along after reading about Photostory Friday on
Cecily's page.
Hopefully I remember to do it every week. :-)
This is a picture of my favorite little cousin, eight and a half year old A.J. I was privileged enough to have been my aunt's labor coach so I got to be in the hospital room when A.J. was brought into the world. I'll never be able to explain the feeling I had watching him being born...I remember calling my mother, bawling, and she immediately thought something was wrong. But I was just so overcome by emotion and love that all I could
do
was cry. I have always wanted to be a Mommy but from that moment on, A.J. has brought out even more intense mothering instinct in me. I've hosted sleepovers ever since he was a one year old. I've watched him grow, watched him evolve into the "grown-up", sensitive, selfless little boy he is today. I can't wait to see the day when I have a child of my own, and little A.J. gets to hold him or her in his arms. :-)
Love you, A.J.!!