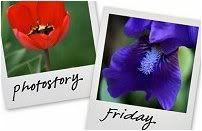 Hosted by Cecily and MamaGeek
I haven't taken many photos lately...I've been slacking, so for this week's
Photostory Friday
I decided to post some of our beautiful butterfly shots from Magic Wings Butterfly Conservatory in Deerfield, Mass.
Daryl and I both were taking photos, so I'm not positive which ones I took, but you get the idea. We're still trying to learn the in's and out's of our Nikon, as well as how to actually take a decent picture (I suck at it! I always manage to cut off limbs/heads or it's too dark/light etc!) but one thing I know for sure:
I. Love. It.
I loved this orange guy against the white of the flower.
This guy found a lovely purple flower to attend to.
This pretty guy was one of my favorites, even though he was not as colorful as his "brothers". I loved the translucent wings. I squealed like a child when he landed on me, I was so excited. And then right after this picture, a big, bossy bright butterfly flew onto my finger-perch and knocked sweet little Mr. Translucent away.
Here is your acrobat butterfly of the day! Again, another time when Big D probably thought he had a kid with him, and not a grown woman. ;-) I get easily excited.
We saw a ton with this pretty yellow, green black color combo. Very vibrant. We were at Magic Wings for about an hour and a half but I easily could have stayed all day. Big D, on the other hand, was ready to go after that hour and a half. Men, hmph!