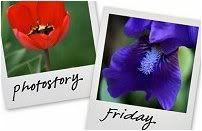 Hosted by Cecily and MamaGeek
Laughter.
Laughter is a big part of my relationship with Big D...from Day 1 of our first date, through dating and even on our wedding day, we've laughed our way along. There is nothing cuter, sexier and just darn silly to me, than a good 'ol belly laugh. And everytime Big D is laughing, I find it so contagious, I just can't help but join in....
...And the fact that I caught it in a picture? Priceless.