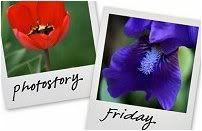 Hosted by Cecily and

MamaGeek
This
Photostory
Friday will be about one of my good friends...someone I am so proud of. My best friend April's husband, Agustin, will be sworn in today as a U.S. Citizen!
Agustin has come so far. He came to this country about eight years ago (give or take), looking to earn better money then he was making back in his own country, Argentina. He had a mother back home that he was supporting and the mere pittance he made in Argentina would never be enough to get ahead.
When he arrived in America he spoke not a speck of English. He got jobs, with the help of his work visa, doing anything he could make money at: washing dishes in a night club, construction, painting. He slowly began to teach himself English with the help of simple television programs which he watched when he could. Eventually he took an English class. When I first was introduced to him, he barely spoke English and his accent was very strong. He was a handsome, young man (he is about six years younger than myself and friend
April
) trying to ma
ke
friends, with his huge, friendly smile, and make his way in a new country. April #2 had only recently just met him herself. When they
started
dating we used to giggle together about her conversations with
Auggie
, how despite his limited vocabulary, they made it work and communicated with each other.
Three months later, April announced to me
tha
t her and
Auggie
were engaged. I was surprised to say the least, but knew that April was smart enough to make her own
decisions
and I supported her. they were married in a small ceremony at the Justice of the Peace's home, then we had dinner at a local restaurant...their love, despite it's newness, was so refreshing, so new, so
real
. I was extremely happy for my friend. I have known
Auggie
for six years now and Daryl has known him for about three, and we know how hard of a worker he is (he has his own business!), how much of a family man he is and how good of a husband he is to my friend, April...and Daryl and I are so proud to call him
our
friend
.
Here we are now, after six years of
marriage
for April and
Auggie
, and today is another big, monumental day in his life, getting sworn in as a U.S. Citizen. I'm so happy for his success!
CONGRATULATIONS,
AUGGIE
!! WE LOVE YOU!!