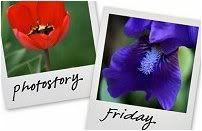 Hosted by Cecily and MamaGeek
Photostory Friday
I'm back!! I'm back!!
I have not done a Photostory Friday in EONS and I've missed you all and your fabulous photos and stories, so much.
A week ago today I had taken the day off from work and went to a local orchard with
Sarah
and her sweet little daughter, Julia. It's always so much fun to see things through the eyes of a child. It helps me to feel young again.